Trafficking and Traditions.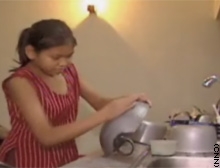 "We are poor people. ... What are we to do?" she said.
[from CNN.com]
The quote is from the girls mother, who has 'leased' her daughter as a kamlari, or, slave.
[whole article here.]
The article highlights a form of slavery that has existed in Nepal for generations. It baffles me.
It struck me... the value of this girls life is $25-$50 dollars a year? For $100 bucks a year, the family would have enough of an incentive to keep their daughter at home.
Where can we draw the line? Is there even a line to be drawn? Do we draw it in the sand? Do we etch it in stone? Do we even posses the tools to draw this so called line?
What do you think?
Tagged:
Trafficking
,
News
,
Thoughts